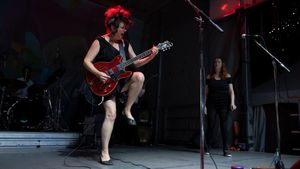 A reformed bank manager, Kimberley realized she was doing a successful job of living someone else's life—and a poor job living her own. In 2013, she launched her original songs into the world and took centre stage.
She has since released three full-length albums, and was awarded Female Artist of the Year at both the 2015 and 2016 Edmonton Music Awards. In 2022, she relocated to Vancouver Island, residing in Qualicum Beach.
She lovingly crafts and passionately performs songs that will move your heart, change your mind and stomp your feet. Weaving seamlessly between blues, folk and rock, her common threads are strength, vulnerability and badassery, always sizzling with soul.